I know Christmas should be a happy time and all, but it's not the same anymore........ I loved it when the kids where little, the laughter, the noise, the music.......xmas wrapping paper from end of the lounge room spilling into the next room!!!
The Xmas Eve Church Service and the Family get together afterwards!! The kids playing with their new toys and on School Holidays.
Those were the days!!! Not anymore!!!
Now they've all grown up and have families of their own... doing their own thing. I didn't see it coming... I have tried to come to terms with it, but it's hard!! This has to be WORSE than when my last child went to his first day at school!!!!!!
My thoughts are with those people who have no-one... I can't imagine how it must be? (and I don't want to!!) How did my Dad cope all those years not seeing my sister and I all those years?
I celebrated Xmas with DFiance and his family with a sumptuous meal at a restuarant, and I felt compelled to eat it all as it was $55pp (whether you ate it or not!!)
Stephanie (below left took this photo of us at the restuarant.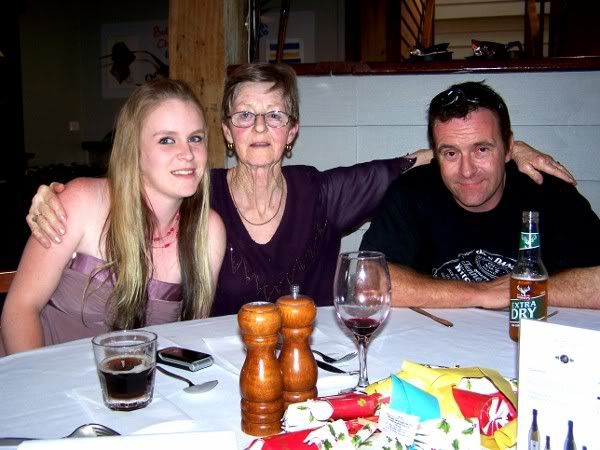 We look real happy huh???
After lunch DF and I chilled out at home by ourselves for a few hours and then we picked up his 2 kids and grandson, then we all went to DFs' sister and BILs' for a BBQ (much later on)... we were all still so full from the lunch...LOL
In a few days time my two kids and my grandies are coming here from their celebrations with family in the Barossa (I WISHED I COULD HAVE GONE....but I work at the hospital and couldn't get enough time off).............so I have something to look forward to at last.... I miss them sooooooooooooo much!!!!!