Finally we dusted the bikes off and DH and I rode our Hondas to Portland.
It was a bit windy, but otherwise fantastic to be on the bike again.
I love the smell of the pine forests when we got past Donavons VIC....
We wanted to go and check out a Caravan Park that would be great to spend a week there in our humongous tent (which we call the Taj Mahal..LOL) sometime in the near future. Although I'd be bored....I would miss my FB, scrapping and chatting at Bons!!
We decided we would ride through Cape Bridgewater on our way home. Well DH missed turn off, so we had to turn around. I started to take off, the bike stalled and

I DROPPED THE BIKE!!!!!!
(sorry Steve A)
Lucky I jumped away, so I didn't get hurt.
But the bike did!!
I broke the brake lever off, and of course my beautiful Honda has some more scratches!!!!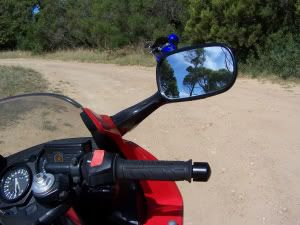 Look no brake lever!
BROKEN BRAKE LEVER!!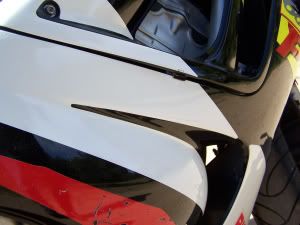 Scratches down the bottom. Sorry not a good pic.
Looking on the bright side at least it wasn't the clutch lever....then I would really be in the poo!
I tell you it was not fun riding using only the foot brake, but I took steady and used my amazing bike skills to get me home safe!!